I've been reviewing legal technology products for several years now and decided to share some past reviews for your viewing pleasure. I hope you find them as entertaining today as I do.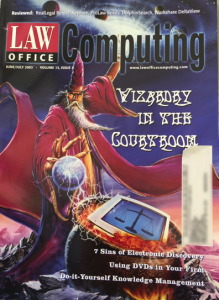 First up is a review of DolphinSearch for the June/July 2003 issue of Law Office Computing magazine. I wrote several articles for the magazine during it's lifetime, as did many of my friends and colleagues in the legal technology world.
DolphinSearch was the original brainchild of Herb Roitblat. The technology was acquired by LexisNexis to become part of Applied Discovery when the Lexis was building up their presence in e-discovery. When I reviewed DophinSearch it was still a bit of a standalone product and as I mention in my review, the product didn't lend itself very well to that arrangement. DolphinSearch was ultimately re-acquired by Herb and a capable team and re-branded as OrcaTec which is still leading the way in predictive coding and text analytics.
Looking at my review from 2003, I realize now that I was looking at one of the predecessors to the analytics tools we use today (e.g. Content Analyst, Recommend, etc.) to parse through large volumes of ESI. DophinSearch was ahead of it's time, and I'm thrilled to see that Herb and the OrcaTec group are still pushing forward.
You can download the PDF of "Searching with Dolphins" review of DolphinSearch that appeared in the June/July 2003 issue of Law Office Computing magazine.