If you're an iPad-wielding lawyer it's time to spend a tiny bit of your professional technology budget on 2-3 apps that you need in your practice.
I've been using TrialPad and TranscriptPad since they were first released by Ian O'Flaherty and his crew at Lit Software. I talk about both of those apps (and the more recent DocReviewPad) at EVERY iPad CLE presentation I give around the country.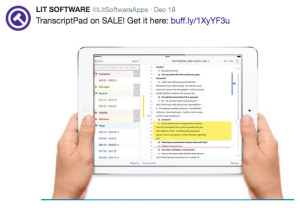 Lit Software is taking $20 off each app now through December 30, 2015. I know Ian and he doesn't offer many discounts so this is rare treat.
I've heard folks complain that these apps are too pricey. My first response is that these are professional-grade apps and NOT Candy Crush. My second response is that an app like TrialPad is an amazing bargain when compared to purchasing a full license of TrialDirector or Sanction. Now you have no excuse with this sale going on.
Watch and hear other lawyers talk about the apps.
More information about the sale here.
Links for TrialPad, TranscriptPad, and DocReviewPad.